Many of you have been asking for an update for Word Power, so you can make your final homeschool plans.
Our plan is for you to be able to use Word Power on the Homeschooling Torah website beginning August 27, 2023. Word Power contains 36 lessons per level, so we will plan to continue uploading through the first week of June 2024.
However, we will NOT be uploading new lessons during these weeks:
No lessons for 2 weeks during Sukkot (September 24-October 6, 2023)
No lessons for 1 week during Thanksgiving (November 19-24, 2023)
No lessons for 2 weeks during Passover (in March or April, 2024)
No lessons for 1 week during the Torah Sisters Retreat (May 13-15, 2024)
Furthermore, if we need to travel or come down with illness, some lessons may be delayed. We'll do our best!

About Word Power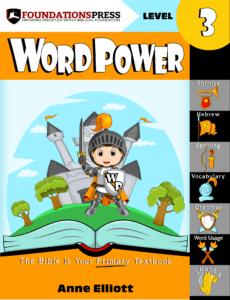 Word Power is a a comprehensive language-arts curriculum for grades K-8, including phonics, Hebrew, spelling, vocabulary, grammar, and writing, with word usage and study skills included. Handwriting (manuscript and cursive) instruction is included. Separate readers with quality literature are included from grades 1-8.
The goal is to raise up Kingdom warriors who are confident in their ability to read the Word of God, as well as write and communicate with others with accuracy, clarity, and kindness.
Frequently Asked Questions
We have already started school, and we are using Copywork, Spelling, Grammar, Vocabulary, and Writing for our students. Should we add Word Power to our plans?
No, do not ADD Word Power. That would be TOO MUCH for your poor students.😊
Rather, Word Power REPLACES all the other subjects.
Word Power includes Grammar on Days 1-3, Spelling beginning on Day 2 of each week, Vocabulary and Etymology on Day 4, and Writing on Day 5.
All families should do Copywork, whether using our previous Language Arts lessons or choosing to use the new Word Power lessons.
Why does Word Power include Hebrew?
The Hebrew lessons in Word Power are included because we want our students to be able to read and write Biblical Hebrew, to understand 1000 Biblical Hebrew vocabulary words that are commonly used in the Tanakh, and to understand basic Hebrew grammar (sentence structure, parts of speech, gender, etc.), so that they are able to read the Bible in its original language.
In addition, because all languages descend from the Tower of Babel (Genesis 11), we are using the Hebrew language to teach etymology and vocabulary in Word Power. We want our students to understand how language fits into the history of the world and to clearly see their place in God's plan and family.
Finally, as our students learn Hebrew along with English grammar, we hope to instill language-learning skills into them, to enable them to more easily learn other languages and to better be able to communicate with others and share the gospel.
We consider the Hebrew lessons an essential part of Word Power. We are keeping the Hebrew lessons separate from the Word Power lessons simply because we intend to put them in print next summer. The books will be too large by themselves, so we need to format them separately. 😊
We don't have time to learn Hebrew in addition to Spelling, Vocabulary, Grammar, and Writing. Is it okay to skip Hebrew?
Hebrew is an essential part of our Word Power program. We expect it to take no more than 10 minutes a day.
Because our goal is to use the Bible as our primary textbook, Word Power will not be a complete program without the Hebrew lessons.
If this is not a good fit for your family at this time, we advise using the current Language Arts lessons already available on Homeschooling Torah. No worries!
I cannot speak Hebrew. Can we skip this part of Word Power?
We will include video instruction and teach Hebrew very gradually over 5-7 years, with very short, daily lessons.
We encourage parents to do Word Power together with their students, rather than simply assigning Word Power as homework. You can do it—and we will help you every step of the way!
My student is learning Italian. Should we skip Hebrew?
We think learning foreign language is a wonderful skill, so we don't want to discourage that in any way.
However, your student will need the Word Power Hebrew lessons in order to complete the other assignments in Word Power. We are keeping the daily Hebrew lessons to around 10 minutes a day, so it shouldn't take too much time.
We are using Homeschooling Torah's Alephbeit for Beginners from Psalm 119. Should we skip Hebrew from Word Power?
Alephbeit for Beginners includes a week of instruction for every Hebrew consonant, and we think it's a great introduction to Hebrew that can stand on its own.
However, Word Power Hebrew includes phonics instruction, grammar instruction, and 1000 Hebrew vocabulary words from the Hebrew Bible.
For that reason, the two Hebrew curricula will not cover the same material. You will need Word Power Hebrew in order to complete the daily Word Power lessons.
Don't Forget
Prefer Not to Use Word Power?
Homeschooling Torah already includes a full language-arts curriculum for kindergarten through 12th grade. Word Power is only an update to our current lessons. You can see a current overview chart of everything we offer by clicking here.
We appreciate the honor of serving you by helping raise up the next generation for the King!

P.S. Questions? Email Anne at support@homeschoolingtorah.com.
Hits: 63