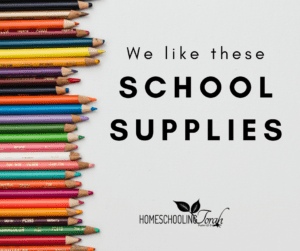 Every August, the big discount stores have lists of school supplies at the front of the store. Teachers from local public schools submit what they would like students in their classrooms to have.
Well, if I were teaching HomeschoolingTorah in my home, these are things I'd like to have handy for my "students." 🙂
Don't worry if you don't have money to buy all these things! Just be creative and remember that a few centuries ago, children learned just fine with just a Bible and a way to write things down, even if it was just a piece of slate and chalk. Your kids don't need much in order to be well educated.
A Bible for each person
A 3-ring binder for each student.
A 3-ring binder to store notebooking pages for Bible, History, and Science
A 3-hole punch
Plastic sheet protectors for charts and notebooking
Printer paper
Crayons
Colored Pencils
Markers
Scrapbooking paper for notebooking (very optional)
Construction paper
loose-leaf notebook paper
Handwriting paper for young writers
Spiral notebooks
Composition notebooks
Correction tape or white-out
A folder with clasps for Typing class
Paints for younger children
Art supplies for crafts and art
Tracing paper for making maps for history and geography
Glue and glue sticks
Scissors
Pencil sharpener
Pencils
A pencil grip for young writers
Pens
A red pen for the teacher
Highlighters
Permanent markers for making charts and flashcards
Dry-erase markers
Dry-erase eraser
Tape
Rulers
Yardsticks
Compass for middle-school and high-school math
Protractor for middle-school and high-school math
Calculator for high-school math (we do not require a graphing or scientific calculator)
Abacus for young children for math
Learning clock
Letter magnets (ABC for English)
Letter magnets (aleph bet for Hebrew)
3 x 5 index cards
index-card storage box
index-card dividers
spiral 3 x 5 index cards
bank box for storage
file folders
hanging files
dividers for binders
flashcards (alphabet, math, Hebrew)
Strong's Concordance (or use www.blueletterbible.org)
Bible Lexicon (we like Jeff Benner's Ancient Hebrew Lexicon, which is available free online)
College dictionary (or use an online dictionary such as www.dictionary.com or Webster's Dictionary)
Thesaurus
You can see a complete list of supplies needed for science here.
Also consider your printer and ink. This is an important part of a HomeschoolingTorah membership, so you may want to read a full discussion about printers and ink here.
Don't forget that you can save ink by using a device, such as a tablet, smart phone, or Kindle. You can learn how to download curriculum files to your device here.
Note that you can use the print button below if you'd like to have this list to take to the store with you.

Hits: 79