Hebrew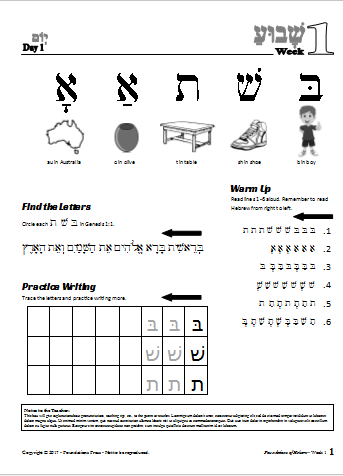 Our Aleph-Bet Hebrew Lessons introduce all the Hebrew consonants, as well as several vocabulary words per week, using Psalm 119 as a starting point. (36 lessons, still under development)
We have MORE COMING! These Hebrew lessons are UNDER CONSTRUCTION! Please excuse the "dust" as we look forward to releasing beautiful new lessons (K-12).
Our goal is to gradually release a full Hebrew curriculum for grades K-12 (and parents, too). We'll be including instruction in reading, writing, and speaking both biblical and modern Hebrew, with an emphasis on the history and geography of Israel and help for living in the Land today. We expect this project to last about 12 years! :-)
Learn more about our current writing projects here.