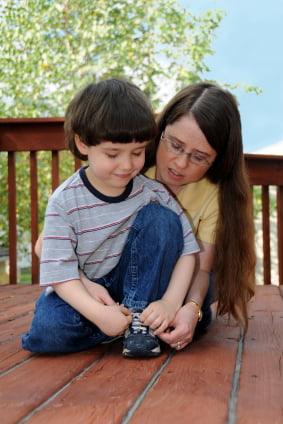 If you've been homeschooling for any time at all, you've discovered the same secret I have. Children must be obedient if you're going to enjoy teaching them!
God says the same thing:
"The father of the righteous shall greatly rejoice: and he that begetteth a wise child shall have joy of him" (Proverbs 23:24).
On the other hand, God tells us:
"A wise son maketh a glad father: but a foolish son is the heaviness of his mother" (Proverbs 10:1).

"The rod and reproof give wisdom: but a child left to himself bringeth his mother to shame" (Proverbs 29:15).
Is homeschooling a miserable experience for you? If so, let me ask you some questions.
Do your children obey you the first time you speak?
Do they obey cheerfully?
Do you enjoy your children?
If you had to say no, then here are some steps you can take:
1. How's Your Marriage?
Do you submit to your husband?
This may seem like a strange place to begin talking about parenting, but honestly, do you really expect your children to submit to you if you don't set a good example? The Bible says,
"Wives, submit yourselves unto your own husbands, as unto the Master. For the husband is the head of the wife, even as Messiah is the head of the church: and he is the savior of the body. Therefore as the church is subject unto Messiah, so let the wives be to their own husbands in every thing" (Ephesians 5:23-24).
In "every thing." That's pretty specific, isn't it?
Do you show physical affection often to your husband?
Again, this may seem like strange parenting advice, but your children need to see love in concrete ways. Saying "I love you" is nice, but they need to see you holding hands, hugging, even kissing! (Yes, my kids think it's gross, too.)
Do you put your husband first in the home?
Do you work on his "to-do" list before your own? Do you clean up the house and welcome him home at the door with a big smile and hug? Do you give him undivided attention and time when he is home? Do you build him up as a hero in your children's eyes?
2. What Is the Focus of Your Family?
The Bible teaches us that the focus of your family should be on others, not on yourselves. In a marriage, the wife's focus is on her husband. The parents should learn to focus on others that they can serve. The children should focus on what others want, such as sharing a toy with a sibling or a neighbor child.
"Therefore all things whatsoever ye would that men should do to you, do ye even so to them: for this is the law and the prophets" (Matthew 7:12).
This is known as the "golden rule," but it's really so much more than just a nice proverb. Yeshua said that this rule is the foundation of the entire Torah and Prophets.
"Hereby perceive we the love of God, because he laid down his life for us: and we ought to lay down our lives for the brethren. But whoso hath this world's good, and seeth his brother have need, and shutteth up his bowels of compassion from him, how dwelleth the love of God in him? My little children, let us not love in word, neither in tongue; but in deed and in truth" (1 John 3:16-18).
True love is an agape love, or a love that lays down its life for another. This is an essential principle that should be at the center of everything we teach our children.
We need to teach our children that "me first" has no place in our homes. They need to be taught to wait. They need to be taught to delay their own pleasure for the joy of serving others. They need to learn to show concern for others in everything they do, from picking up their things so that others don't get hurt, to speaking with kind words to others, to going beyond their "to-do" list to truly helping others. (See Leviticus 19:16-18.)
Believe me, this does not come naturally!
Life, Liberty, and the Pursuit of Happiness?
Do your children have too much freedom? I think we all realize that children cannot handle too much of the stuff or they get "wise in their own eyes."
I have found, though, that homeschooling families struggle in this area. We have more freedom with our time than other families. We homeschooling moms also tend to be much more busy than other moms. The result is that our children tend to run loose much of the time, without as many constraints and without any idea of what to do with themselves.
What happens when your children lose some freedom? Do they have a bad attitude? The answer to this question will tell you a lot about their hearts!
For instance, if you poured a drink into a red cup for your daughter, would she complain and want it in a blue cup instead? Or would she be content and thankful? Her attitude when you make a choice for her tells you if she has too much freedom for her age.
If you ask your son to do math or to stop playing video games, does he obey immediately or grumble?
Attitudes are a peak into the heart.
How to Fix the Problems
I have three primary goals as a parent:
To teach first-time obedience (Colossians 3:20).
To teach obedience out of a happy heart (Psalm 40:8).
To teach a love for others over a love for self (Matthew 7:12).
If I can accomplish this, I will have laid a foundation on which I can build godly character and a devotion for God.
How do I do this?
Mom, spend more time with your children. "A child left to himself bringeth his mother to shame" (Proverbs 29:15). Keeping your children close to you throughout your day will allow you to quickly correct any wrong actions or attitudes. (See also Deuteronomy 6:4-9). However, the purpose of this time is to catch any disobedience or bad attitudes right away. This is a mother's and father's job, and we must not be lazy about doing it.
Mom, be consistent in your discipline. "Say what you mean and mean what you say." If your child disobeys, quickly and consistently correct him. If you fail to do this, you are teaching your child that you are a liar. Just as our children must obey "the first time," we must correct "the first time" — or sin will continue.
Mom, think ahead and teach your children before there is a problem. One of my favorite authors calls this "teaching in moments of non-conflict." Play act various situations with your children, being sure to tell them why they should obey, so that they can apply your instruction to a multitude of contexts.
Enjoy Each Other
Finally, have a happy home by learning to enjoy each other's company. Home should not just be drudgery and work and conflict. Home should be a wonderful haven from the sin of the world. Joy is a fruit of the spirit and a sign that your home is healthy.
How many times a day do you all laugh together? You can teach yourself to laugh long and often. Honestly, the more you laugh (even when you don't feel like it), the more you'll laugh.
Write funny things that happen in your journal or on a blog. Noticing the positive, happy things that happen in your home will keep you from complaining and murmuring. Again, joy is a choice that is contagious.
Stay offline. Homeschooling moms can become addicted to the Internet (or television or fiction books or the telephone). The more your children are left to themselves, the less joy you'll find in your parenting.
Play games together, pretend with your children, tickle, give hugs and kisses, and tell funny jokes. No, life is not all fun and games, but since you spend so much time together, have fun in the doing.
Homeschooling is hard enough! Start with a happy home filled with obedient and loving children and you've got a foundation for homeschooling success!
Hits: 127