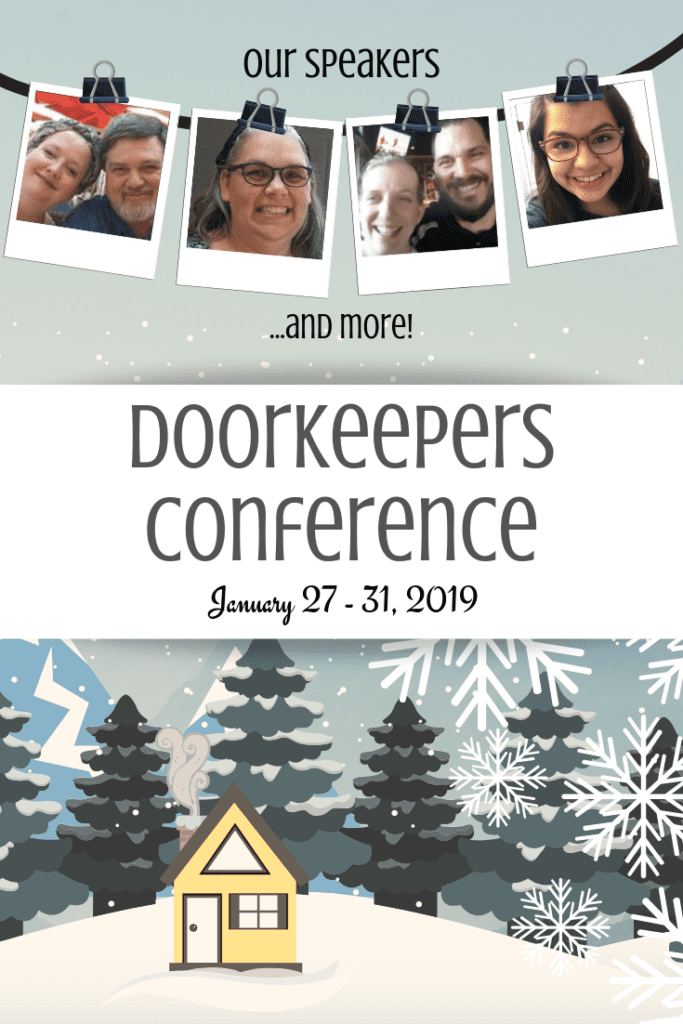 Our 2019 Winter Doorkeepers Conference will be January 27-31, 2019. It is free to all — and available only online!
The conference is being brought to you by Homeschooling Torah and Foundations Press.
We're calling it a "Doorkeepers Conference" because we're going to talk about ways to "protect the doors" to our homes… how to "distinguish between holy and unholy, and between unclean and clean" (Leviticus 10:10).
As parents, it is our urgent job to help our children learn to
Think biblically,
Act righteously, and
Shine brightly in a sinful world.
This is more than a homeschooling conference (although we'll certainly talk about homeschooling). It's hands-on training to lock out the darkness!
We Are Looking for Sponsors
There is no cost to attend the conference! We will be posting all the sessions on YouTube permanently, with links back to the conference pages on Homeschooling Torah — including our sponsors!
We are not asking for any money from our sponsors. There are only four things we need from you, if you decide to sponsor us:
A passion for our topic and a commitment to PRAY FOR US! This is really important to us!
Willingness to share the event with your followers, whether that's your social media following or your email list. This would be so much appreciated!
A freebie (such as a small printable, a tiny e-book, an activity page, a helpful video, a practical checklist, etc.) for our attendees. We would need this submission before January 21.
A giveaway of a real product (just one is fine) that we can give as a prize to ONE of our attendees on the last night of the conference. Digital or physical products are both fine. After the conference, we will give the winner's contact information to you so that you can deliver the product to them.
In exchange, we'd love to spotlight your ministry to our attendees. Please provide us with images, descriptions, and links you'd like us to use as soon as possible (preferably by Thursday, January 3). We know that's a rush, so let us know if you cannot make that deadline. We will share your ministry on our conference pages, on our social media pages, and with our email list, as well as during the conference sessions videos themselves.

Our Conference Plans
Here is our potential lineup of speakers and events, although this is ALL subject to change in the next few days! 🙂 Please don't share this page with others until we announce it publicly. Thank you! 🙂
Sunday, January 27
Battling Lies with Truth, with Christine Miller & Anne Elliott (6:00 PM Eastern)
Called to Be Doorkeepers, with Anne Elliott (8:00 PM Eastern)
Mom's Facebook "Conference Kick-off Pajama Party" (9:00 PM Eastern)
Monday, January 28
How to Read Hebrew, with Lydia Hirn and Anne Elliott (6:00 PM Eastern)
Teaching Our Children to Shema (Hear), with Kraig and Anne Elliott (8:00 PM Eastern)
Tuesday, January 29
How to Choose Good Books for Torah Kids, with Anne Elliott and various homeschooling moms (6:00 PM Eastern)
If My People: Revival for Struggling Families, with Kraig and Anne Elliott (8:00 PM Eastern)
Worship and Prayer Time — Live Scripture, Music, and Prayer Together (9:00 PM Eastern)

Wednesday, January 30
Nourishing Our Children on the Bread of Life, with Anne Elliott (6:00 PM Eastern)
Memorable Ways to Celebrate Biblical Feasts, with Anne Elliott and various homeschooling moms (8:00 PM Eastern)
Thursday, January 31
The Proverbs 31 Woman, with Katherine Hirn and Anne Elliott (6:00 PM Eastern)
Keys to the Kingdom, with Anne Elliott (8:00 PM Eastern)
Prize Giveaways and Testimony Time — Facebook Live Video & Fellowship Time (9:00 PM Eastern)

Again, if you would like to be a sponsor, please fill out an application here.