We sent all our customers a survey this week about new "Video School" lessons we're praying about producing. We'd like to share the results of that survey and then tell you what our tentative plans are.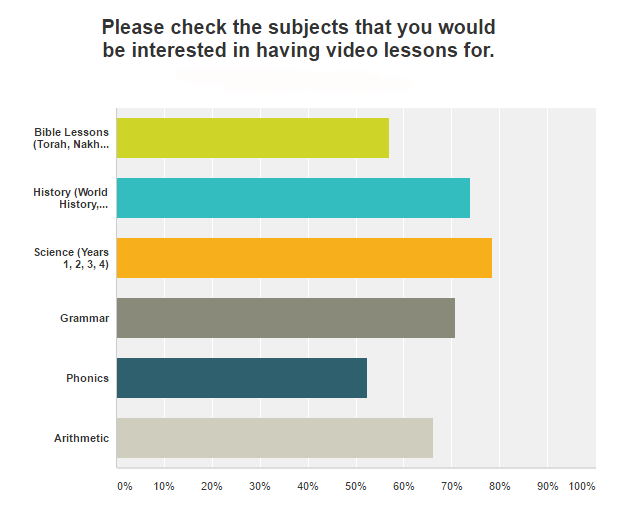 I was honestly very surprised by these results. I expected Torah to get the highest vote, with science as the lowest vote. However, my adult son pointed out that even I struggle to stay on track with subjects like science, simply because busy mothers run out of hours in a day. Obviously I am not the only one! (Ahhhh…)
Several customers pointed out that they prefer to do Torah reading and discussion as a family, since doctrine is a very sacred thing and no one teaches our own children quite like we do! We're a stubborn bunch, but I personally think this is the way YHVH made us. Parents are supposed to teach their own children. (Woo hoo for homeschooling!) However, some families are new to Torah or struggle getting everything done, and those families were more likely to vote for Torah video lessons.
Other suggested subjects included Hebrew, writing, geography, high-school math, and fun electives such as Davidic dance, baking and life skills, and crafts. One person suggested monthly live "mom groups" for discussion and fellowship. Please know that every suggestion has been recorded and will be prayed over!
(A full Hebrew curriculum is being prayed over and planned right now, even without video — but please know that it will not be ready for the 2016-2017 school year.)

Wow, thanks for all the amazing ideas! (Surveys can be a pain to fill out, and we really do appreciate the time and care you showed!)
Here were just some of the dozens of ideas:
Try to have live audience participation.

This would be hard, because our members are scattered across the world, in multitudes of time zones and even languages. However, maybe we could figure out a way to include a chat room or interactive comments, with responses to some of them in the next class so that just about anyone could participate. We'll pray about it!

Please provide quizzes and handouts, so that children can show they are learning.

Wow. The biggest benefit of not doing videos (and rather, letting parents lead the discussion in their own homes) is that parents can immediately see what their own children comprehend simply by discussing things with them. We are greatly opposed to removing parents from the equation and becoming a full online school. We feel that the Torah places the burden of teaching on parents directly (Deuteronomy 6:6-9), not on some publishing company. However, quizzes, handouts, checklists, and special video guides for the parents might help because we could come alongside mom or dad and provide tools that remove some burden. This would require some time to develop, so we'll pray about it!

Please provide closed captioning (or other tools for learning disabilities and other situations).

Whew! That would be amazing, wouldn't it? However, realistically, these things cost a great deal of time and money. We think these should go on the list for "later," but we may still go ahead with a simpler production just so that families could start using the videos now. For now, we'll pray about it!

Don't make boring videos (ie. please include special effects and other ways to keep the kids from falling asleep… zzzz….)

Special effects and Hollywood-quality sets aren't in any of our budgets, but we love kids and we love teaching kids, so we'll do our best! Our plan is to record in front of a "live" studio audience — in other words, our own children (ages 20, 17, 16, 14, 11, 9, and 6). They are pretty blunt, and we know they'll tell us if we're boring them to tears. Please pray for us!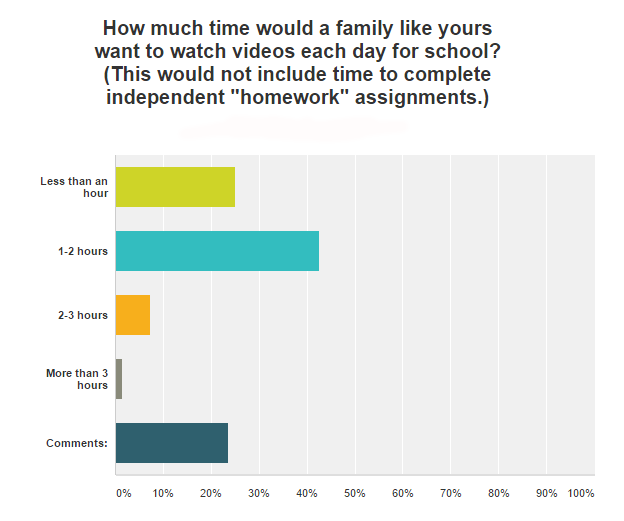 We've been tossing around a few ideas, and although these could change, here are some projected times for each class.
Torah (30 minutes, 5 days per week)
History (30 minutes, 3 days per week)
Science (30-45 minutes, 5 days per week)
Grammar (15-20 minutes, 3 days per week)
Arithmetic (15-20 minutes, 3 days per week, with 5-minute videos 2 days/week)
Phonics (15-minute lessons for Mom, to help her teach her own children, 1 day/week)
Of course, this list is not set in stone or official, so after we record a week of pilot videos for each class, we could know for sure.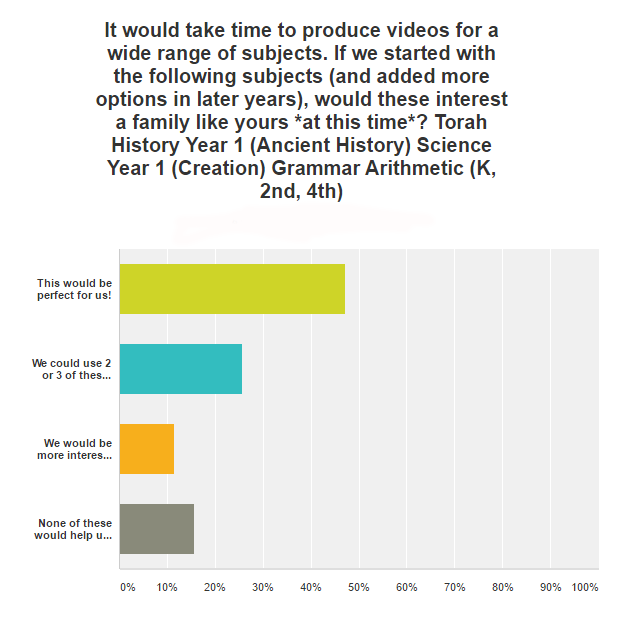 At the moment, we are making plans to record a week of pilot classes in July. If all goes well, we would record the first two months of classes, to be released by September. After that, we could evaluate, and if it's YHVH's will to continue, we would happily do so.
We're just an ordinary family ourselves, so as much as we'd love to, we would only be able to produce a few classes at a time. However, in just a few years, this could be a really great resource!
The most common response was, "It's hard to say for sure when we don't know what the cost would be." That makes a lot of sense, and we appreciate everyone's honesty!
Most companies that produce video lessons charge around $150 (including textbooks) for one subject. For instance:
Diveintomath.com — Teaches one grade of Saxon math for one year, starting at $134.95
Get Smart Grammar — 37 grammar lessons (compared to our 180 lessons!) for $129
Abeka — Streams video classes for all subjects for one grade, for between $740 (grades 1-6) and $995 (grades 7-12)
Bob Jones — Video classes for all subjects for one grade, $999
We figured the costs to be around $20,000 to pay for one year of just five subjects from HomeschoolingTorah, which would include equipment costs and video editing/production. This is without a fancy set!
However, if we could find 50 new members who each joined for one school year at our current price ($399) — nothing extra — the cost would be covered.
Another common response was, "Yes, it's affordable and fair to charge for these videos — but our family's budget is too full, so we wouldn't be able to afford any more than what we're already paying."
Yes, we understand. One of the characteristics of most Torah families is that we're making many sacrifices already. We're living on just one income, we have sometimes lost jobs because of our obedience to the Sabbath, and we're often isolated from family and other Christian homeschoolers.
So we'll be honest with you. We think that Video School is a great idea! We have two choices:
Charge an additional $50/month to only those families who can afford it and choose to use it.
Offer it to all our members at no extra cost, but only after we have found enough new customers to pay for it.
We're going to try Option #2 for the moment. We are going to use our own money to pay for editing the pilot and recording the first few weeks of classes. In the meantime, we'll do everything on our end that we can to advertise HomeschoolingTorah and try to increase our customer base. If the needed funds come in, we'll continue the project and release the videos to all our members, at no additional charge.
If the funds don't come in, we'll pray about it some more! 🙂
As you can see, it's not definite. Please do not place your hopes and plans entirely on possible video lessons this fall. We've been using the lesson plans at HomeschoolingTorah for over a decade now, and we know you'll be giving your children a great education even without extra videos.
How Can You Help?
If you love HomeschoolingTorah, help us by telling others about us!
Please feel free to use your affiliate link! (Email us if you need help.)
Pray for us!
HomeschoolingTorah is not just a business to our family. Yes, we do use the income we receive to pay our rent, utilities, food, gas, and other expenses. We also invest in ministry, pay a growing staff, "donate" some to Uncle Sam in the form of taxes, and pay expenses to run the software on a website such as this.
However, we don't ever want to forget our humble beginnings. We didn't know we'd have the privilege to teach thousands of children about Yeshua and His Torah. We didn't know that YHVH would use HomeschoolingTorah to touch so many lives. We didn't know that many families would hear about the Torah for the first time ever. We still get tears of joy when we hear your stories! We have been blessed beyond measure!
We want to move slowly to launch something new like video lessons. We thank you for your kind words of encouragement and beg you to pray for us!