We recommend history for 4th grade and up. If you have younger students, you can try Ancient History, or consider Geography instead. Another option is to just wait until your children are a little older, or enjoy learning history yourself, Mom, in the evenings.
Important: Order History Books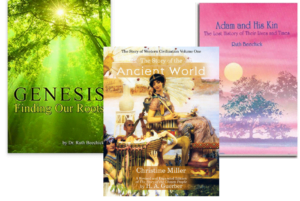 This is one category which requires additional books and resources. We have made every effort to keep costs low. You may download lists of required books and resources here. <<Do this right away!
Did you know that as a Member, you can get some of your history resources free? Check out your Teacher Bonuses here.
History is one of our favorite subjects! Once your books arrive, you'll find that it's easy to just open up your Teacher Binder each day and start discussing the history of the world.
Tab: History
Introduction to Ancient History (4th grade and up)
If you would prefer starting with a later point in World History, or with American History or Geography, click here.