Bible is REALLY important! In fact, it's probably a major reason you decided to join HomeschoolingTorah!
We highly recommend that you start each school day with Torah Time.
Tab: Bible
If your children are all second grade and younger, you may consider doing Foundations Bible instead:
A little later, we'll help you choose some Scripture copywork for each of your students, as well as some Bible reading that any older students can do independently each day.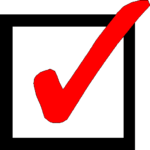 Plan Ahead!
Each week, you'll need to return to your membership site to download the lessons for the coming week. I plan about 30 minutes for this each Sunday morning.
You can find Bible curriculum by looking here on the website: