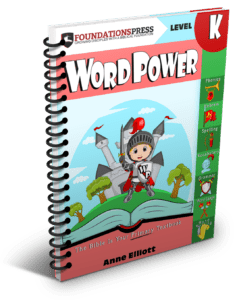 Word Power workbooks for K-8th grades will be uploaded and ready for use by September 1, 2020.

These new books will incorporate all of the following subjects that are currently on the website — and combine them into easy-to-use printable worksheets for each grade.
Phonics
Hebrew
Spelling
Vocabulary
Grammar
Oral Language
Writing
No more guessing what subjects to teach to your various children. ? We will gently help your children learn all of these subjects, while using the Bible as our primary textbook. 
You'll find workbooks, flashcards, and even stickers — plus answers and help for you the parent, as always.
If you're already using our current language arts curriculum, no worries. You'll be able to pick up in the same lesson you're on right now.
Release Schedule
Dear friends, I know you have been WAITING and WAITING for news on the Word Power books. We have had numerous roadblocks, but we are now on track to have them ready by September 1, 2020.

I was crying out to the Father, because I didn't understand why He would so clearly tell us to work on this curriculum, bring us so far, and then allow circumstance after circumstance into our lives to put the whole project on "pause" for so long. I understand what it's like to have children in your home that are waiting and don't have the curriculum for language arts, which is such a HUGELY important piece of curriculum. (My own two youngest children are in grades 4 and 7, and they are waiting just as your children are.)

He brought two verses in front of me that were a huge comfort:

"As each one has received a gift, minister it to one another, as good stewards of the manifold [multi-colored] grace of God. If anyone speaks, let him speak as the oracles of God. If anyone ministers, let him do it as with the ability which God supplies that in all things God may be glorified through Yeshua the Messiah, to whom belong the glory and the dominion forever and ever. Amen" (1 Peter 4:10-11).

"God also bearing witness both with signs and wonders, with various miracles, and gifts of the Holy Spirit, according to His own will" (Hebrews 2:4).

In these verses, He was telling me that yes, He has gifted each of us to build up the body (and train up the children), and yes, He has multi-colored joys to bring to us, and yes, He has a plan and wants to use each of us to work in His kingdom. However, He also only allows us to do it when HE supplies the ability. It's only according to HIS will.

I've been trying very hard to listen to Him, to only make my plans according to His will, and I really do believe His sovereign will always holds our best interests in mind — and the best interests of our children. He isn't up in heaven wringing His hands — even if I feel like wringing my hands!!!!

So according to the ability He gives me, and according to His will, we will continue working. If you would prefer NOT to wait for the Word Power books and would like help choosing from the existing curriculum for your family, the notes below should help you out. If you need more help than this, let me know. I'd be glad to help! ~Anne Elliott
If you would prefer not to wait…
If your student is waiting for the new Word Power books, we recommend that you start them with the following curriculum at Homeschooling Torah. The new Word Power books will cover the same topics, so that any transition will be easy.
Word Power K – now available (or in print)
Word Power 1 – Level 1 Phonics and Copywork
Word Power 2 – Level 2 Phonics and Copywork
Word Power 3 – Level 3 Phonics and Copywork
(<<– all remedial readers, please use this level)
Word Power 4 – Spelling 3 and Copywork
Word Power 5 – Spelling 4 and Copywork
Word Power 6 – Spelling 4 and Copywork
Word Power 7 – Vocabulary, Copywork, and Grammar
Word Power 8 – Writing, Copywork, and Grammar