Still in development
Systematic theology is an in-depth study of God and all His characteristics. Theology is urgently important for our Torah-observant teenagers to study as they approach adulthood because of the unbelief and relativism of our culture. We hope to help your student ask questions and to seek the answers to those questions in the unchanging bedrock of the Scriptures. However, we also hope to help your teenager learn how to disagree with kindness and to have compassion for others who may not believe as they do.
"Set apart YHWH Elohim in your hearts, and always be ready to give a defense to everyone who asks you a reason for the hope that is in you, with meekness and fear" (1 Peter 3:15).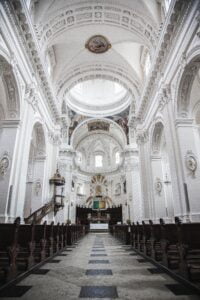 Unlike our other Bible curriculum, Systematic Theology is intended for independent study by high-school students (preferably 11th or 12th grade). It includes:
Daily reading assignments in Scripture with instruction on note taking and outlining of passages
Word studies in Hebrew and Greek with instruction on using Bible-study tools
Reading assignments from primary sources in history, to give context to modern-day doctrines taught by Christianity
Comparisons of traditional Christian, Jewish, and Nazarene doctrine, with introductions to many denominations
Scripture memory and Bible copywork
Development of a written personal set of beliefs based on a foundation of Torah
Encouragement for devotional Bible reading, journaling, private worship, and prayer
Weekly discussion assignments for students to do together with parent
Tools and techniques for lovingly sharing truth with others
How to deal with anti-missionaries
A final research paper on the topic of the student's choice
Imporant Note: This course is advanced and is only intended for students who have *THOROUGHLY* studied their Bibles (Torah, Old Testament, and New Testament). If your student has not studied the Bible with you, the parent, we encourage first studying together our curriculum on the Torah, the Nakh, and the Apostolic Scrciptures. Your student should also have studied World History through at least the Reformation, Grammar, and Writing. If your student is not prepared or is not currently enrolled in these courses, please wait another year or two.
While this curriculum is designed for independent study, we *STRONGLY* recommend students and parents set aside time for weekly discussion as assigned in the curriculum.
In addition, all high-school students are invited to join our Theology Club, where we will be hosting weekly discussions about the topics being covered in our Systematic Theology course. All discussions will be moderated by HT staff and parents.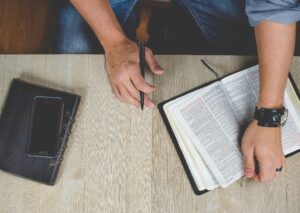 Scope and Sequence
The doctrine of the Word of God (the Bible, the canon of Scripture, the inerrancy of Scripture, the sufficiency of Scripture)
The doctrine of God (His existence, knowability, character, creation, providence, miracles; also a discussion of the trinity, angels, demons)
The doctrine of the kingdom (purpose, covenants, Israel, dispersion, and our activities in this time and the age to come)
The doctrine of man (creation, male and female, soul and spirit, sin)
The doctrine of Messiah (prophecy, first coming of Yeshua as Messiah, deity, manhood, atonement, resurrection and ascension, his coming reign)
The doctrine of the Ruach (the Spirit and his activities, the gifts of the Spirit)
The doctrine of salvation (common grace, election, predestination, the gospel, faith and repentance, justification, adoption into Israel, baptism, sanctification, eternal salvation, death, resurrection)
The doctrine of local assemblies (purpose, purity, unity with other believers, authority, local leadership, worship and assembly, methods of growth, brief history of Christianity and Judaism)
The doctrine of the future (rapture and tribulation theories, the return of the Messiah, the age to come, final judgment, common views of end times)
While many different views of these topics will be covered, please note that we will be teaching them from the perspective of our doctrinal statement.
About Systematic Theology
Systematic Theology is copyright 2017 by Kraig and Anne Elliott.
All rights reserved. No part of this curriculum may be used or reproduced in any manner whatsoever without written permission, except in the case of brief quotations embodied in critical articles or reviews. You do have permission to photocopy the curriculum for your own personal use. You may select individual pages to copy, or you may copy the entire curriculum! It is up to you how much of the information you want to copy and for how many children in your family you want to use it. You can copy this curriculum for use in your immediate family only; redistributing the book to other families is strictly prohibited.
"Therefore all things whatsoever ye would that men should do to you, do ye even so to them" (Matthew 7:12).
Published by Foundations Press
The Golden Rule of Interpretation
"When the plain sense of Scripture makes common sense, seek no other sense; therefore, take every word at its primary, ordinary, usual, literal meaning unless the facts of the immediate context, studied in the light of related passages and axiomatic and fundamental truths, indicate otherwise." — D.L. Cooper