Conference Schedule | Sponsor Page | Goodie Bag | FAQs

Simply click the video below to start watching! 🙂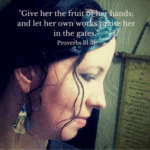 DESCRIPTION: Annie Kawchack is a busy HomeschoolingTorah mom who came up with a 5-step process for organizing her school year. We thought you'd love getting an experienced homeschooler's perspective on making HT work for you!
DATE/TIME: Wednesday, August 9 — 7:00 PM Eastern
SPEAKER: Annie Kawchack, from Proverbs in My Home
https://www.youtube.com/channel/UCkGliAO1PV0tilGjxKCtDxg
Resources mentioned in this video:
A Broad Look at HomeschoolingTorah (chart showing subjects from Pre-K to 12th grade)
Torah Prompts from Heidi Cooper at Torah Family Living
Note: Annie is offering a $10 discount until August 16, 2017. The discount code is TENOFF. Enjoy!
Conference Schedule | Sponsor Page | Goodie Bag | FAQs
Learn More about HomeschoolingTorah!