Anne says, "I first heard of Evonne Mandella from Wholesome Learning several years ago, and I started downloading all of her talks to my mp3 player. Her excitement for all things Torah is contagious, yet as a Jewish believer in Yeshua, her knowledge of Hebrew culture is extensive.

She is currently working as a staff videographer with Old Schoolhouse Magazine, and she has her own video service where she designs eye-catching promotional videos for both Christian and Messianic TV. Be sure to follow Evonne on her website and at CurrClick.
Evonne Mandella of Wholesome Learning is donating one free copy of her Family Feast Bible, a one-year Messianic Bible curriculum. Read more about it here…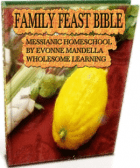 How to Enter…
To enter to win this complete Messianic Bible curriculum, please leave a comment below.
Please share some ways that teaching your children about YHWH's appointed feasts has helped you love YHWH more!
Giveaway will be valid until Monday, July 29, 2013, at 6 pm Eastern time. One winner will be chosen randomly on Monday evening, July 29, 2013. Be sure your email address is valid so that we can contact you if you win.