This page is where you enter for a chance to win…
The book, Pedaling Home by Emily Varera.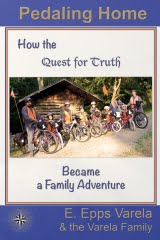 "A critical decision made under cottonwood trees between a railroad track and a lonely Texas Panhandle highway began a new way of life for the young Mexican bachelor hiding there. Thirteen years later would find him 7,000 miles around the world in the Promised Land with his pregnant wife and seven children.
"Pedaling Home: How the Quest for Truth Became a Family Adventure" is taken from the 2008 three month journal of the woman who drove down that lonely highway in 1995–ultimately giving birth to their eighth baby in a tent on a roof in Jerusalem overlooking the Temple Mount. Read of the miraculous events that forever changed two people, and potentially millions more."
How to Enter…
To enter to win this prize, please leave a comment below.
Giveaway will be valid until Monday, August 24, 2015, at 6 pm Eastern time. One winner will be chosen randomly on Monday evening, August 24, 2015. Be sure your email address is valid so that we can contact you if you win.