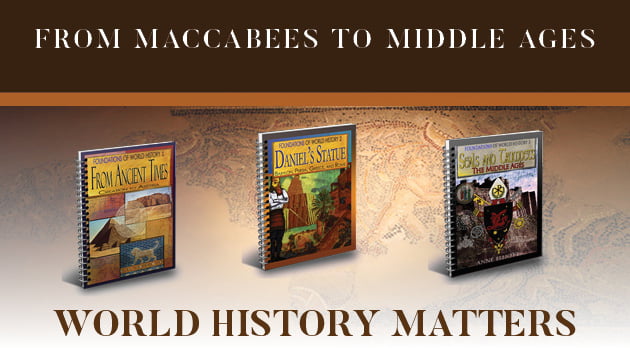 Because we believe that the Bible reveals all of history (past, present, and future), it just makes sense to use the Bible as our primary history textbook.
In fact, we believe that knowing God's plan for mankind is essential for our children — in fact, for all people.
But real homeschooling moms wish they could study history with the whole family together.
They also want a curriculum that's easy to use, realistic for the budget, and interesting for both children and parents alike.
This is how I felt several years ago, when our family "discovered" that we could use the Bible as the center of all our homeschooling. This means history, science, math, grammar, writing, typing, p.e., and everything else!
But I had no idea how to actually pull it off in real life.
However, as we studied history, prophecy, and more in the Scriptures with our children, and as we saw how God is always faithful to His Word, our faith and trust in Him was confirmed. I knew that this was the best way to study history and to prepare our children for the future, no matter what subject was involved.
My husband and I went to work, outlining the key historical passages of Scripture, reading primary sources, studying timelines, and purchasing multiple curriculum guides. We made lists of some of the best features of existing curriculum — and ways that we felt things might be a little easier for both parents and students.
I've been praying for a new way to teach my children… something that would focus them on the Bible. (K. in Michigan)
Benefits of Our World History Curriculum
I know you're going to love the results! Our curriculum is easy to use, is filled with the best resources and books, is designed for the entire family to use together, and constantly uses the Bible as the best "living book" ever.
Study world history chronologically, beginning with Creation and continuing all the way to modern times. A firm foundation for biblical and cultural understanding will be laid.
Teach your children how to study history for themselves, using narration, research projects, timelines, and discussion.
Teach your children how to handle their Bibles through daily use, to understand what it means, and to apply it to their lives.
Commit large sections of Scripture to memory, and understand which passages are keys to understanding the flow of God's plan of redemption.
A variety of activities for multiple ages means that families will read together, study together, and grow together… making life easier for Mom and simplifying your homeschooling day.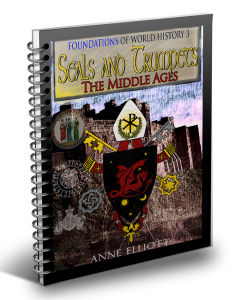 We think you're going to fall in love with our curriculum because…
It's easy on Mom! She'll have very little preparation to do!
It's family friendly! All of your kids will be learning, memorizing, studying, and applying Scripture together.
It's cost efficient! We offer it to you as inexpensive e-book downloads. Additional books and resources are classics you'll enjoy in your home for years (but we shopped around to find many books that you might be able to borrow from your local library or find for free online.)
Our goal is to present history, not just as another subject in school, but as an opportunity for your whole family to be thrilled and amazed by God's Word.
And the Same for Math, Science, Grammar, and More…
Since 2013, we have been publishing curriculum that allows families to use the Bible to teach every subject. We've seen first-hand the transformative power of the Word of God in our children's lives. (We've also seen how it changes our own hearts.)
Starting with the foundation of the Torah and going on to proclaim Yeshua as our Messiah, our goal is to raise up Kingdom Warriors and to bring back the Lost Sheep to the fold.
All Scripture is given by inspiration of God, and is profitable for doctrine, for reproof, for correction, for instruction in righteousness, that the man of God may be complete, thoroughly equipped for every good work. (2 Timothy 3:16-17, NKJV).
We offer a complete package curriculum that is written specifically for Torah-observant families.

We've talked to many Torah-observant and Messianic families recently who homeschool with Christian or secular curriculum — but they're frustrated. They may have many books and lesson plans on their shelves — but their days are filled with tweaking, fixing, and adapting. Finances are tight. Time is even tighter.
If this sounds like you, my husband and I would like to help you change that! We'd like to give you an affordable plan for teaching one child or many, using the entire Scriptures as your foundation and primary textbook.
One price covers your whole family!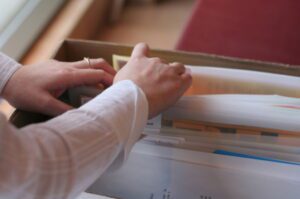 Benefit #1: Daily Lesson Plans for All Subjects, All Ages
As a member of our website, you'll be able to use the Torah to teach Bible, history, and science to math, grammar, reading, writing, and phonics. It will even include Hebrew, music, poetry, art, health and fitness, and chores!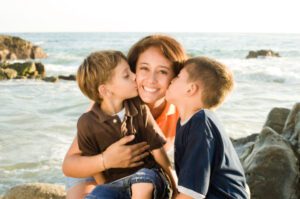 Benefit #2: Tools, Training, and Fellowship for Mom
Membership includes easy-to-follow instructions for new homeschoolers and veterans alike, with practical planning helps for Mom — such as household planners, menus, and recipes (featuring biblically clean foods!).
We've done the prep work for Mom, freeing her up so that she has energy for priorities of home, children, and marriage.
PLUS, we'll give you private access to videos, webinars, articles, and community events. Both new and experienced homeschool moms can find mentoring, as older women train younger women.
Your Membership will include…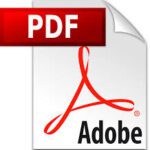 When you become a member, you'll get immediate access to our website so you can start using the first month of your curriculum.

All lesson plans and worksheets are available as PDF downloads that you can print, or you can simply view them on your computer, laptop, Kindle, tablet, or other device. We even offer technical help when you need it!
Membership includes all this, PLUS…
You'll receive planning emails each week, which will include helpful ideas for implementing the curriculum and news and prayer requests from other members.

Plus, you'll receive weekly teaching tips for upcoming biblical holidays, ideas for teaching from a Torah perspective, and Scriptural encouragement for your marriage and parenting. You'll also have access to all our blog posts.
All members receive…
Homeschool and household planning forms in Word® and Excel® formats, so you can customize everything for your own family.

Each month, new content is automatically added to your Member area, for as long you're a member — and you can view it by the week, by the subject, or by the Torah portion you're reading.
Plus all members get BONUSES…
You'll have full access to our training videos, audios, and webinars — so you can learn to teach difficult subjects with confidence.

You'll have full access to amazing GIFTS from our partners — like exclusive discounts on required history books, ebooks on biblical feasts, history timelines, preschool curriculum, notebooking pages and maps, and even advice for teaching high-school students!
Take advantage of this special offer now!
"We started school this week, and had a GREAT week. Your curriculum was a part of that! I have been able to have some really concentrated Bible time with our 8-year-old daughter. She is seeing the 'themes' of Scripture in the games we play. It has been a blessing to us both. And, she is seeing, biblically, that we are to obey. Not just cuz Daddy and Mama say so, but cuz God says so. (That has been a hard concept for her to grasp.) I also really like the activities that you have listed. They are just enough to dig a bit further, but not so much that either of us feel overwhelmed." – Michelle from Alaska

"Just know that you are changing lives by your obedience to the Father. We live in a place where we have no other Hebraic believers so you'll never know how much your ministry has meant to our family. I am able to take Biblical History and make it simple for my young teen children yet have soooo much depth in the study. More importantly, I am able to make their daily lessons relevant in their daily walk because of the guidance you have provided through your history curriculum. My prayer is that they will pass all they have learned down to the next generation. Shalom and many blessings." – Renee in Utah

"I have already skimmed over the plans for Daniel's statue (World History Year 2) and am so encouraged by how Bible centered it really is. I'm very excited about what we will learn this year and the connections we will hopefully make." – Deena
When you become a member, you will be able to login to start planning your school year and start downloading your first week's curriculum or simply use it on your computer, laptop, tablet, or other device. You'll receive access to planning forms, teacher training, and household helps, too.

You'll immediately receive emails with links to videos and downloads to help you get started right away.

You'll receive an email each Saturday night with ideas, hints, and special instructions for the coming week.

Each month, you will automatically receive access to more curriculum. You can visit the website to download your curriculum at any time, for as long as you're a member.

Your free bonuses are yours to keep, no matter how long you stay with us.
Yes!
I want to get started today!
$39/monthly membership – Your initial charge will be $39. You will then be charged $39 every 30 days for as long as you choose to continue using our curriculum.
$399/yearly membership – Your one-time charge will be $399. You will have access to our curriculum for one full calendar year.
(Be sure to read our Terms & Conditions.)
We're eager to have you join our homeschooling family! Get started today…
P.S. Still not sure? Take us for a spin… If you're not satisfied with your content, simply email us within your first month. We'll refund your fee and cancel your membership – with no hassle to you whatsoever. Click here to get started.
Interested in Preschool curriculum only?
We want to be readily available to answer your questions. You can contact us here.