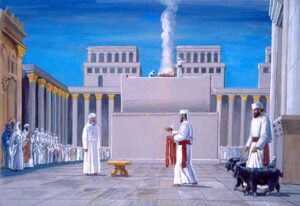 Yom Kippur, or the Day of Atonement, is the most set-apart Sabbath of the year. It is a day in which we are to do no work, and we are command to afflict ourselves. Some people feel that this word means to fast (abstain from food), while others see the word as meaning "to humble oneself."
While Scripture says that "whoever keeps the whole law but fails in one point has become accountable for all of it" (James 2:10, ESV), this is also the day of At-One-Ment, when our Messiah Yeshua went as priest before God in the heavenly tabernacle and offered a once-for-all atonement for our sins (Hebrews 9-10).
Adults wrestle with the concepts of judgment and mercy, law and grace on this day. And it's good to do so, as we search our hearts for hidden sin and repent humbly before our Creator.
But it's also a teaching day for the children! (All the feasts are…)
Here are some ways we observe Yom Kippur in our home:
Family Bible Study
During the day, we take time to do this interesting study on the biblical Day of Atonement! If you don't have a congregation where you can attend services, this will give you something special to do at home.
Memory Verses – "For if, when we were enemies, we were reconciled to God by the death of his Son, much more, being reconciled, we shall be saved by his life. And not only so, but we also joy in God through our Master Yeshua the Messiah, by whom we have now received the atonement" (Romans 5:10-11, KJV).
Vocabulary to learn – reconciliation, atonement, mercy, grace, restitution, forgiveness
Tabernacle – I found that it's so much easier to explain the Day of Atonement to my children if we first construct a tabernacle together, then act out the Day of Atonement as we read aloud Leviticus 16.
You can do like we did and make your own tabernacle out of construction paper, being sure to include each of these things:
Brazen Altar
Laver
Table of Showbread
Altar of Incense
Golden Lampstand
Ark of the Covenant with Mercy Seat
Aaron and another man to lead a goat into the wilderness
Two goats, a ram, and a bull
You can see a diagram of the layout of this furniture at http://www.biblenews1.com/grace/gracea.htm
You can use scraps of poster board or cardboard. You might have scraps of fabric that could be used for the tents, etc.
If you're feeling overwhelmed by this project, consider spending $10 before Yom Kippur for a paper tabernacle online. A good option is available at https://sciencebob.com/oreo-cookie-moon-phases/
Read how one mom studied the tabernacle with her children at http://sbees.blogspot.com/2008/04/building-tabernacle.html
Share your testimony – Tell someone else about the atonement that has been given to you! Write down some simple things you could say.
Bible Drill –
Coloring –
In the Afternoon  — I try to take some time by myself to get alone with God and my Bible. I can seek His face in prayer and repentance, both for myself and for my nation and my forefathers. Here is a good article you can read to prepare for this time.
Songs – We found that a wonderful way to close the Day of Atonement is to gather around the piano in the evening and sing every song we could think of that had to do with the atonement. "Power in the Blood," "Lord, Have Mercy," "Since I Have Been Redeemed," and even "Amazing Grace."
After Yom Kippur – It's time to start planning your sukkah! (How fun!) If you were able to travel to Israel, you'd start packing!
Studies for Adults and Teens
Hits: 760