We have been asked to provide an overview chart showing a way that a student could logically progress through all of the subjects available at Homeschooling Torah. Our goal is to provide you with a well-laid-out plan of schooling from preschool to high school.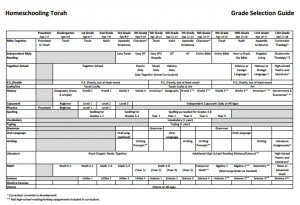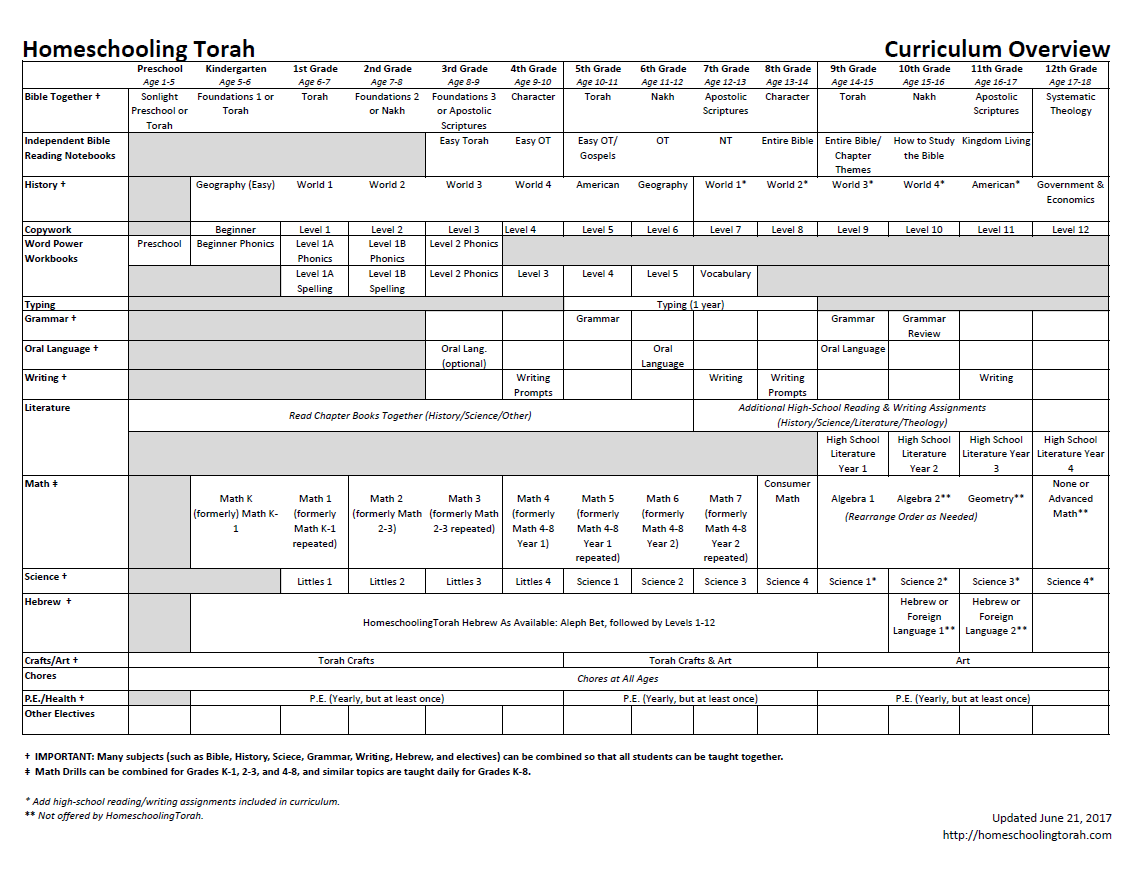 Some Cautions
This plan would work best with only one or two children. The more children you have, the more likely you won't be able to follow this plan exactly. (I'm in this situation, too.) That's okay! Just choose a schedule that makes sense for your family and teach your children together. Our curriculum was especially designed for that.
Some subjects don't need to be done every year. These include vocabulary, grammar, together school, and more. However, we do recommend repeating them several times over the years your child is growing, so that your child can review and practice the concepts learned.

Together School is packed. You could do a "light" version during the elementary years, then you could concentrate on just one topic at a time during the middle years. In high school, concentrate on areas that are especially interesting to your student, although it is typical for a student to study two years of a foreign language as well as literature.
P.E. is filled with fun games that can make long school days more fun. However, you may choose to study about sports one year, health topics another, and so on. It is typical for high school students to do at least one formal year of physical education.
We recommend a thorough study of Grammar at least twice, one of which should be in high school. Use Oral Language to review what you have learned, or study Oral Language at the same time as Grammar.
We recommend taking Writing at least twice, one of which should be in high school, but your students should also be writing and producing projects (such as notebooking pages) when assigned in other subjects, such as history and science.

Adjust the schedule to fit your family and your students' interests. This is just a suggestion.

Is your student feeling a little bored? Add additional reading and writing assignments, especially in Torah study, History, and Science. We give ideas in the curriculum, but follow your student's interests and pursue topics as deeply as you can.
Is your student feeling overwhelmed? Put the subject away for a year or two. There is no rush! Allow your child to mature a bit more before trying again. We have noticed that after physical growth spurts, our children often have mental growth spurts. For children ten and under, see these ideas.

If you live outside the United States, adjust this plan to fit your national requirements. Please feel free to contact us if you need help.
Questions? Contact Us | Read More Blog Posts by Anne